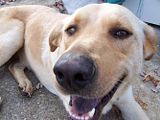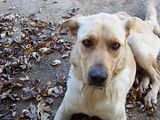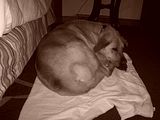 My big, golden yellow dog.. Willow, is 8 years old. I've been vying to get her sprung from solitary (i.e. on a tie-out, outside.. miserable) so that she could come live with us for months now...
And finally, it happened. Thursday night was so cold, we decided to get a crate and bring her home with us. She adjusted perfectly.
I woke up this morning to find my husband couldn't catch her to take her outside... and that she'd peed in the floor. She's always been well housetrained. Problem is... there was blood in her urine.
I called the emergency vet, took her there.. and after two hours, am left empty. She definitely has an infection. A bad one. But then there were also a lot of bladder cells that had sloughed off into her urine (plus a blood clot).
Long story short.. my vet wants to recheck on Friday after a round of antibiotics. However, with her age, we're checking for bladder cancer. He told me she had a 50/50 chance.. and wanted to prepare me for the worst.
I don't quite know what to do. I feel so empty. I just want to cry.. constantly.. and bury my face in her fur. She has been my best friend for 8 years now... I don't want to have to let her go.